Bio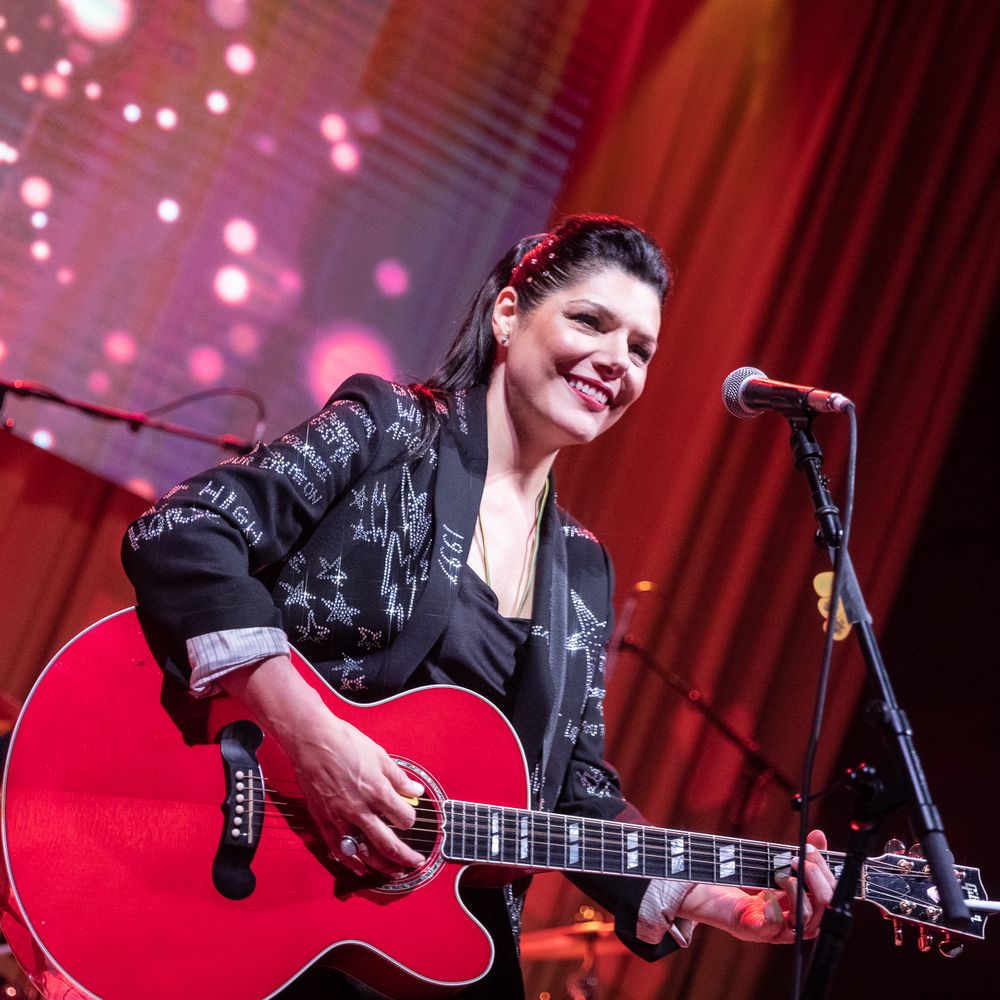 Queen V got her start playing the New York City club scene, with performances at venues such as CBGB and Don Hill's. Following the 2002 release of her EP, Critical, she and her band would embark on two high profile tours in 2003, opening for Twisted Sister and then Billy Idol. In 2005 the band won the WDHA Homegrown Spotlight Battle of the Bands which led to daily play on the station and a spot opening for Twisted Sister and Sebastian Bach at Rock The Park. The band would go on to win a number of other competitions including an XM Radio contest that earned them a spot opening for Bon Jovi at the Meadowlands and a 2013 Ernie Ball Battle of the Bands that awarded the group the opening spot at the Jones Beach stop of the Uproar Festival, playing alongside Jane's Addiction, Alice in Chains and others.
Queen V has collaborated with a number of artists throughout the course of her career. Her 2013 Release, The Decade of Queen V, featured a guitar solo from Tom Morello of Rage Against The Machine on the track "My Machine" and an appearance by Lemmy on the track "Wasted," which he co-wrote with her. Prior to those collaborations Vernon Reid of Living Colour played a guitar solo on the track "One & Only" from her 2007 release Death or Glory. She has shared the stage with Corey Taylor of Slipknot and Stone Sour, who also co-wrote "Say What You Want," from V's 2017 release, Bridges Vol. 2. She has also appeared with Camp Freddy featuring members of Jane's Addiction, The Cult and Blink-182.
The last few years have seen Queen V playing in support of the Bridges Vol. 1 and 2 EPs which she released in February of 2016 and November of 2017, respectively. 2018 saw V continuing to focus on expanding and evolving her sound and songwriting, making frequent trips to Nashville, where she recorded 2017's Bridges Vol. 2. 2019 brought a return to her New York City roots as V began working on Bridges Vol. 3 with Grammy-winner Chad Carlson, who also produced Vol. 2, the singles "Like You Do," "Honest," "Falling In Love" and "Write Your Song"are streaming now.
Queen V's only live show of 2020 was her Royal Jam at Ulysses, a singer-songwriter focused evening, which took place January 25th. The Coronavirus pandemic then put touring on hold. Through that time V continued to work on new music for Bridges Vol. 3 from home and launched a streaming acoustic concert series, Live From The Den. The final single of 2020, "Strong," is streaming now, an accompanying video was filmed in NYC with director Otoja Abit, and can be viewed here.
2021 saw V release two new singles and return to the stage. First was "Slip Away (Quarantined)" a new uptempo, dancier take on her track from the Bridges EP. A video for the song is streaming now. V's second release of 2021 was the single "Alone," which came out April 2nd. The video for "Alone" is streaming now. V was able to revive her annual Fall Ball in November of '21 after a pandemic induced hiatus.
V kicked off 2022 with the return of her annual Spring Fling which took place on April 22nd. She continued her 2022 performances with a Bridges Vol. 3 Release Party on June 9th at The Atlantic Bkln and her first performance in Pittsburgh in five years at Celebrity Care Fest 2022 on July 23rd, where she opened for, and sat in with, The Temptations, Lou Gramm of Foreigner, and The Jacksons. 2022 also featured new music from V, first being the Bridges Vol. 3 single "Technicolor," which was released February 25th. The track also features V's first ever animated music video, which can be viewed here. The new full length, Bridges Vol. 3, was released on June 10th and is now streaming everywhere. It features the seven previously released singles and four brand new songs, including the title track to the trilogy, "Bridges."
2023 saw V host her first Summer Soiree at Rockwood Music Hall, which featured support from Bryan Ruby, Margaret Valentine, and Zach Comtois of Better Fires. Summer of '23 also featured V's first ever vinyl release, a limited edition splatter vinyl pression of 2022's Bridges Vol. 3. The Summer was capped off by V performing "The Star Spangled-Banner" at Guaranteed Rate Field on August 7th, ahead of the White Sox - Yankees game.
Stay tuned to V's Instagram, Facebook and Twitter for updates on live shows, streams, and new releases.
Live Photo: Melinda Oswandel